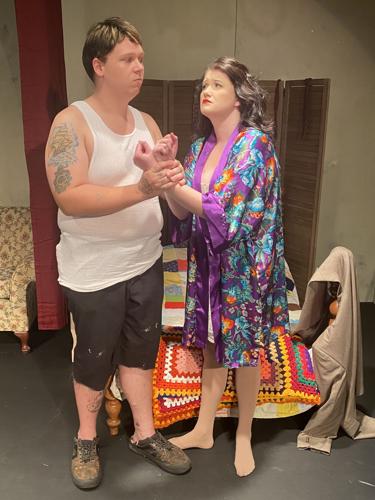 By Jill Holloway jill.holloway@gaflnews.com
THOMASVILLE- Thomasville On Stage and Company opens their 2022 season on Friday night with a Tennessee Williams classic, A Streetcar Named Desire. 
Written in 1947, the play pays homage to Williams' life, as his sister and mother reportedly battled mental illness.
This all comes to light when a troubled woman comes to stay with her brother and sister-in-law.
Current Board of Directors President, Kimsey Hodge said the Board received input from the community prior to the season, and one of the suggestions put forward was A Streetcar Named Desire.
Hodge was delighted to hear this, as she said she loved Tennessee Williams and did her research paper on him in college.
"I just fell in love with him," she said. "I couldn't read enough about him or watch enough of his movies."
Because of her affection for Williams' work, Hodge became the perfect candidate to direct the production, and while she is thrilled to take on the task of directing her first adult-geared play, she made it clear that some of the scenes will not be exactly like the movie.
"I didn't want my main character to have the southern accent Vivien Leigh had in the movie," she said. "I think it's important but if you get too caught up, it becomes more of a caricature instead of being authentic."
Hodge did want to hold true to some iconic scenes from the movie, though.
"It's not going to be the movie, I do want to stay true to Tennessee Williams, but it's going to be what our vision is," she concluded.
Some of the key scenes do include toxic behavior, not limited to both verbal and physical abuse.
The toxic cast features two leads new to TOSAC.
Both Luke DiGanci, who plays Stanley Kowalski and Victoria Price, who plays Blanche DuBois have lived in Thomasville for only a few months.
"They just jumped right in, but we are so happy to have some new blood," Hodge said. "I think you'll be seeing a lot of new faces around the theatre."
Other cast members include Jennifer Guyton, Samantha Gainous, Michael Henderson, Chris Guyton, Cameron Parker, Emmy Tanscics, Ransom Young and Jennifer Winchester.
Hodge is assisted by Heidi Woods of Cairo with help from Bill Bass, Jr. in production.
To see the talented cast and crew in action, patrons can purchase tickets for the Sept. 30 premiere and premiere party for $30-adults or $25- students. The premiere party will be moved indoors in the case of inclement weather.
The premiere begins at 7 p.m. with additional performances on Saturday, Oct. 1 at 7 p.m., Sunday, Oct. 2 at 2 p.m., Friday Oct. 7 at 7 p.m., Saturday, Oct. 8 at 7 p.m. and Sunday, Oct. 9 at 2 p.m .
Hodge reminds patrons that the program may not be suitable for young children, as violence is depicted.