COVID-19 POLICY and Regarding tickets sales: 
Any person entering the premises waives all civil liability against this premises owner and operator for any injuries caused by the inherent risk associated with contracting COVID-19 at public gatherings, except for gross negligence, willful and wanton misconduct, reckless infliction of harm, or intentional infliction of harm, by the individual or entity of the premises. Ga House Bill 112 – exp. 7/14/22
Per TOSAC Policy, Masks are encouraged but not required for patrons & volunteers while attending a performance. Capacity is unrestricted and you may self social distance as able. Thank-you!
To purchase ticket/seat:
Select the performance dates you would like to attend, then click "Add to Cart."
Adjust the quantity of tickets on the cart page. 
Price includes a $0.75 service fee per ticket.
"Tickets" are held at will call; when you arrive at the theater give the name of the purchaser and bring your PayPal receipt as proof of purchase. We do not send out actual tickets.
Student tickets are for preschool through college. Children under age 2 in lap are free.
Online sales may be closed out as early as 24 hours prior to a performance depending on seat availability, but you may still be able to purchase tickets at the door.
Mary Poppins Jr. Show Tickets
TICKET UPDATES: PayPal is now off for all ticket purchases.
Friday June 24th Show & Party – tickets are available for purchase at the door
Saturday June 25th 2 PM – limited availability 
Saturday June 25th 7 PM – very limited availability
Sunday June 26th 2 PM – close to sold out
You may call 226-0863 to leave a message to inquire about availability. 
Mary Poppins Jr. Show & Party on the Patio
The Friday Night June 24th show ticket includes an after party on the patio with the cast and light refreshments! Tickets are available for purchase at the door.
*Tickets for Anyone Can Whistle will go on sale after Mary Poppins Jr. 
Season Tickets:
Season tickets include: 1x ticket to each of our mainstage season shows and 1x Festival pass for TOSAC Fest (admission to all events / if being held during the season). Once purchased, please make your reservation to the performance of your choice by calling our box office: 229-226-0863. We will reserve a front row seat for you!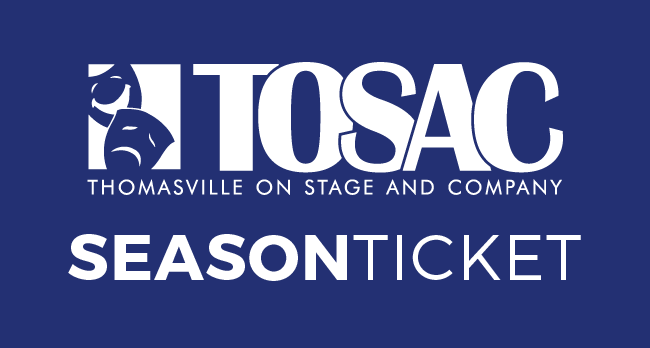 Don't forget your TOSAC annual patron membership!
General Tickets and Seating Information:
Ticket sales are limited to 70 people at the Storefront Theater. Front row preferred seating is given to our Season Ticket holders in attendance. All other general seating is on a first-come-first-served basis. For best seating please arrive 30 minutes prior to a performance. Evening shows begin at 7pm and matinees begin at 2pm. The box office is generally open 60 minutes prior to the show and the theater doors open 30 minutes prior to curtain.
Show reservations to pay at the door can be made by calling the TOSAC box office at 229-226-0863 and leaving a voice message.  Please leave your name, call back number, show date and time and number of seats to reserve. We will call you back if additional information is needed or if the show is sold out, otherwise please know that your message has been received and your reservation is set.
*You may pay at the door with cash, check or credit card.
Unpaid no-show reservations will be given to walk-ins 10 minutes prior to curtain.
Thank you and we look forward to seeing you at the theater!