TOSAC is proud to present William Inge's Pulitzer Prize winning play Picnic as the first production of the 2014-2015 season. William Inge was a well-known American playwright in the 1950's era. He was born in Independence, KN. His plays typically portray small-town life with settings in the heartland of America. Inge became known as the "Playwright of the Midwest". Some his other award winning plays include Come Back, Little Sheba, Bus Stop and The Dark at the Top of the Stairs. 
TOSAC welcomes Caleb Goodman from FSU and Theatre Tallahassee as guest director of this production. Under his direction the characters come to life in a play that has retained its gripping power since 1953. Audiences will be spellbound by the sometimes comic, sometimes tragic events of a Labor Day weekend in middle Kansas. For the Owens and Potts families life changes rapidly when wandering Hal Carter shows up in search of his long lost college buddy Alan Seymour.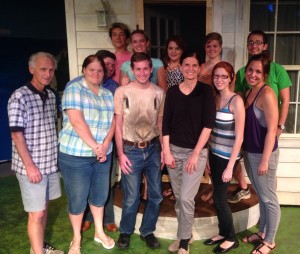 The fall production opens Friday, September 19th at 8:00 p.m. with a sneak preview on Wednesday, September 17th at a Flaunt Pop It Up event at 217 W. Jackson St. beginning at 7:30 p.m. Please refer to the Center for the Arts for more information. Other dates are Saturday, September 20th at 8:00 p.m., and Sunday, September 21st at 2:00 p.m. Performances will also be the following weekend September 26th, 27th and 28th Friday and Saturday at 8:00 p.m. and final matinee on Sunday at 2:00 p.m. Reservations for Picnic can be made by calling the Storefront Theater at 229-226-0863 or going on line to tosac.com where reservations can be made through PayPal. All seats are $12.00 for students and $15.00 for adult and senior patrons. Be sure you don't miss the American classic.