Debuting in 2015, TOSAC Fest has become an annual theater festival hosted at our Storefront Theater. Our vision for TOSAC Fest is to showcase plays that otherwise may be overlooked in a jam-packed season of well-known titles. In the past we have chosen to highlight local & regional adult playwrights to perform their shows in a rotation over a 10-day schedule. The festival also includes other events, such as Q&A with the playwright and meet & greets with the cast and crew. We will offer Festival Passes that can be purchased online or at the box office which will include all of the shows and events in one combined and discounted price.
Each year we choose a theme, and for 2018 we have decided to choose one-act plays submitted by student (high school or college) playwrights. The title for TOSAC Fest this year is "Prodigy" and the deadline to submit your play is April 15, 2018. The main criteria for our selected shows are a flexible/minimal set. As long as the current theme applies to you/your show, we are open to just about anything – the sky's the limit!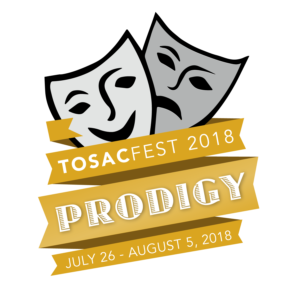 Please join us, as a writer or spectator, while we celebrate local art!
Submit your one-act play (in PDF format) via email: tosacinfo@gmail.com Subject Line: TOSAC Fest 2018 Submission