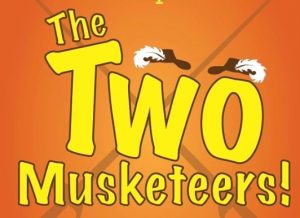 Directed by Cherokee Godwin
When a small acting company eliminates one Musketeer from their production of The Three Musketeers due to budget constraints, the rest of the cast must sally forth bravely with only two. The classic tale of d'Artagnan and his sword-fighting friends is presented by a hilariously self-aware cast of six, with romance, wit, and derring-do to spare. This low-tech, high-comedy adaptation is a witty send-up of Alexandre Dumas' beloved adventure.
Show Dates in February:
UPDATE: THIS WEEKEND'S PERFORMANCES (2/24 – 2/26) HAVE BEEN POSTPONED UNTIL NEXT WEEKEND (3/3 – 3/5) DUE TO AN ILLNESS IN THE CAST . TICKETS PURCHASED FOR THIS WEEKEND ARE VALID FOR NEXT WEEKEND. PLEASE SEND AN EMAIL TO  TOSACINFO@GMAIL.COM IF YOU WANT TO SELECT A SPECIFIC SHOW TO ATTEND, OTHERWISE YOU ARE  RESERVED FOR NEXT WEEKEND'S CORRESPONDING WEEKDAY OF YOUR TICKET(S).
Opening Night and After-Party on the Patio – Friday the 17th at 7pm
Evening performances at 7pm on the 18th, 24th & 25th MARCH 3RD & 4TH
Matinee performances at 2pm on the 19th & 26th MARCH 5TH
*This play contains adult language and content.